St. Louis County DFL Organizing Unit in SD 3 (SLC-OU3)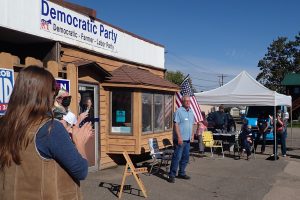 St. Louis County Organizing Unit Three(OU3), in Senate District Three, is an unit of the Minnesota Democratic Farmer Labor Party (DFL). The unit stretches from Kabetogema to Ely, South to Duluth Township, and across to Lake Superior, including Hermantown, Proctor, Solway, and Midway, encompassing 50 townships/precincts. Senate District 3 has 4 operating units including Koochiching, St. Louis County OU3, Lake, and Cook.

In 2021, the board of the SLC-OU3 developed Vision, Mission, and Core Values statements:
Vision: We envision a community where everyone has equal and affordable access to quality basic services such as housing, health care, education, transportation, food, and communications; where a sustainable economy provides jobs that pay a living wage; where the water and air are clean and natural habitats are preserved; and where a democratic government for the people promotes justice, safety, and liberty for all.
Mission: SLC-OU3 will educate, mobilize, and maximize the number of DFL voters and identify, recruit, and elect DFL candidates who support the DFL Platform and Action Agenda. The goal is to protect our democratic process and to protect and defend democracy.
Core Values:
Quality health care for all
Fair labor practices
Quality, equitable education
Racial, cultural, environmental, and social justice
Protection of the environment, including clean water and clean air
Labor organizing rights
A living wage
Humane immigration and immigrant rights
LGBTQ+ rights
Elimination of age discrimination
Freedom of expression
Indigenous rights and recognition of sovereign nations
Add your contact information to our mailing list for updates.
Support the SLC DFL!
To donate to the unit, please send a check care of our Treasurer, George Pliml at
Minnesota DFL Organizing Unit 3
P.O. Box 1113
Cook, MN 55723
or go to Act Blue to make a donation.